Photos of Meets
---
---
---
Archive

Meet reports 2001 to 2014.
We have started a pdf archive of books and Journals that give an insight into the Association in its earlier days.
To start the archive off we have a copy of the "Inauguration of the Cabane Britannia, 1912.
There are also Journals from 1975 to 2008.

---
Please contact the Hon. Editor if you have any comments

Last Updated: 28 June 2016
A mountaineering club with a strong interest in UK and alpine activities
---
Meets for 2016
Upcoming Alpine Meets: The Hotel Alpine Meet in Cogne for the first week of July. The Joint Alpine Camping Meet, is in Ailefroide, Ecrin, France 16 July to 6 August. Book with Kieth Lambley.
The joint ABM/TCC summer meet at the Goerge Starkey Hut over 17 - 21 August.
The High Tatras Meet will be at Zakopane, Poland on 31 August to 8 September. This meet is now full.
The Loch Lomond Meet will be in Tarbet on 14 to 17 October.
For all our UK and Alpine meets see the Programme.
---
Latest News 28 June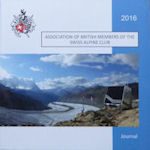 The Journal is now being posted out to members, Editor.
A new walk has been set up to encourage visitors to the Ullswater area - the Ullswater Way. The walk makes use of the lake steamer for shorter walks or you can try the full 20 walk. Details are on www.Ullswater.com
Photos of the North Wales meet in mid June are available on the Facebook page and the group page. More photos and report soon.
Photos of the Kintail and Skye meet in mid May are now available, meet report soon.
Photos of the Derbyshire meet over the May Day weekend are available on the Facebook page and the group page. More photos and report soon.
Photos of the New Members Meet are on our Facebook page. Report will follow soon!
The BMC were looking for members to raise £100,000 for environmental projects on some of Britain's most iconic peaks with their new campaign Mend our mountains.
The ABMSAC donated £1000 towards the appeal. You will be pleased to know that over £100,000 has been donated/pledged to the BMC. For more information go to www.crowdfunder.co.uk/mendourmountains.
You might be interested to read the article Pam Harris wrote on Bhutan, entitled 'Bhutan Kingdom of the Thunder Dragon', that has been recently published on the Blog site of Cicerone Press.
---
George Starkey Hut
The hut is in Patterdale near Ullswater, at the heart of the Lake Districtís Eastern Fells. It is ideally placed for the High Street range to the East, whilst from the front there is a splendid view of Helvellyn and its neighbouring fells: to reach them, all you have to do is put on your boots and walk from the hut.
There are rock climbing and mountain biking opportunities from the front door, canoeing and sailing on Ullswater and pony trekking locally.
The hut has up to 20 places that are bookable by clubs and groups and a members room with eight places.
Please check hut availability by reviewing calendar for 2016, 2017 or 2018 before booking.
For Hut bookings contact Marian Parsons
---
Meet Reports

2016 Reports

Fassfern Meet, Scotland, March
Annual Dinner Meet, Lake District, February


2015 Reports

Braemar Meet, Scotland, October
Beer Meet, East Devon, October
Mattertal Trek, Switzerland, September
Alpine Camping Meet, Argentiere, July/August
Alpine Hotel Meet, Madonna di Campiglio, July
Rhyd Ddu Meet, Wales, June
May Day meet, Hurdlow, Derbyshire, May
New Members Meet, Patterdale, April
Fassfern Meet, Scotland, March
Annual Dinner Meet, Lake District, February

---
Club information
How to join us
Please let Mike Goodyer know if you change your address or e mail to ensure that you still receive Newsletters.
The web site for the Swiss Alpine Club has links into pages for the separate Sections.
A source for all types of climbing information/access/insurance in the UK is the BMC

---