The George Starkey Hut
The George Starkey Hut is in Patterdale near Ullswater, at the heart of the Lake Districtís Eastern Fells. It is ideally placed for the High Street range to the East, whilst from the front there is a splendid view of Helvellyn and its neighbouring fells: to reach them, all you have to do is put on your boots and walk from the Hut.

There is convenient local rock climbing at Castle Rock and Raven Crag in Thirlmere, Dove Crag in Dovedale, Scrubby Crag in Deepdale and Gowbarrow by Ullswater. Langdale and Dow Crag in the South West and Borrowdale to the North West are easily accessible. There are mountain biking opportunities from the front door, canoeing and sailing on Ullswater and pony trekking locally.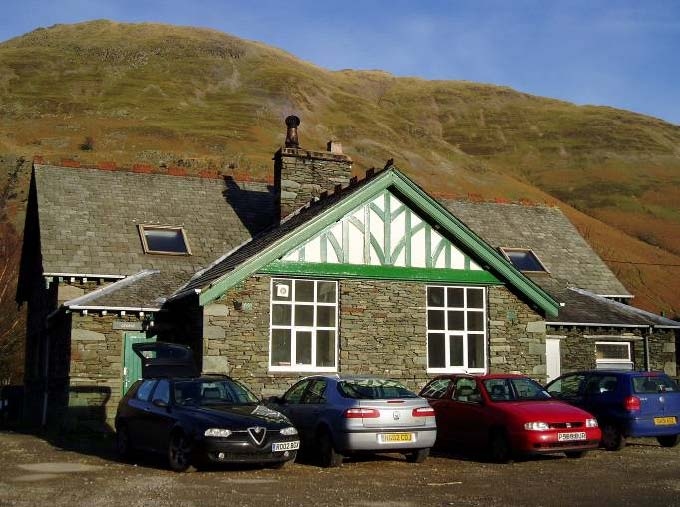 George Starkey Hut
It is a first class hut in the Lake District which we share with our new partners the Alpine Club (from 1 July 2016). It is an architect's conversion of a village school and can sleep up to 28 people. The hut was upgraded in October 2017.
It is hired out by climbing clubs (up to 20 places) most weekends throughout the year. However there are up to eight places reserved for members.
Hut Bookings
Please check hut availability by reviewing calendar for 2018 or 2019 before booking.
Marian Parsons is the Hut Bookings Secretary. If you wish to make a booking please e-mail Marian, sending details of when you want to stay and how long and how many beds are required.
This is the preferred method of contact for making bookings. If you do not have access to e-mail then you will still need to contact Marian by phone or letter.
Members are reminded not to just turn up at the hut anticipating that there will be places available; always contact the Hut Bookings Secretary first.
Hut Fees
The hut fees from January 1st 2015 are set at £6 per night for members and kindred clubs, £11 for members of BMC affiliated clubs and £12 for others (Outside Bookings for 20+ beds, £1 less per bed per night reduction).
The hut is available for exclusive use, particularly for mid week and extended bookings, prices by negotiation.
Bookings for the George Starkey Hut are welcome from British Mountaineering Council affiliated clubs, other clubs, school and youth groups, business and training organisations.
For more details and pictures see the hut website.
Running of the Hut as a Limited Company
The original lease on the George Starkey Hut was negotiated back in 1974. It was decided by the Club Committee that the lease should be held in the name of a Limited Company. The Company was set up as a Company Limited by Guarantee with the Guarantee value set at £10 per member. If you would like to become a member please complete an application form and forward it to the Company Secretary.
A new 30 year lease was signed in December 2014. After the Alpine Club becoming our hut partners in 2016 the Company was renamed the George Starkey Hut Limited.
If you have any questions about the constitution of the Company and how it operates please contact the Company Secretary, James Baldwin, full details are in the latest Journal.